Address: 801 Carlton Street, Springdale AR 72762
Email: info@brookwaycounseling.com
Tayler Pollock LCSW (Therapist)
Therapist Tayler Pollock Springdale, Arkansas
Therapist Tayler Pollock: Beginning the therapy process can be incredibly overwhelming. It is my goal to create a warm and accepting atmosphere for you to enter and share at your own pace.
In a therapy office, I believe it is of the utmost importance for you to feel comfortable and safe. That is why I place so much emphasis on the therapist-client relationship in services. Through a trusting relationship, we can begin to explore the challenges and barriers you face that prevent you from achieving your goals. I believe that every person is unique, thus not every approach or intervention will work for every person. It is my job to be supportive and help identify what is going to work for you.
I frequently utilize therapies including Cognitive Behavioral Therapy (CBT), Solution Focused, and Eye Movement Desensitization and Reprocessing (EMDR). I began my career working with children, teens, and families in a therapeutic day treatment program where the focus of treatment was often anxiety and depression, attachment disorders, adjustment and trauma, inattention and distractibility, anger management, mood instability, disruptive behaviors, and/or dysfunctional family systems.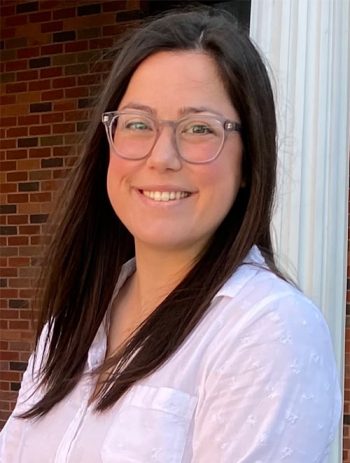 I then moved to a medical setting in which I had the opportunity to work with clients of all ages and backgrounds with a wide range of treatment focuses including, but not limited to, domestic violence, depression and anxiety, trauma, grief, stress management, prenatal and post-partum depression and anxiety, psychosis, mood disturbances, and eating disorders.
I grew up in the suburbs of Dallas, Texas and following my high school graduation, I moved to Fayetteville, Arkansas to attend the University of Arkansas. I received my Bachelor of Art degrees in Psychology and Social Work before moving on to complete my Master of Social Work degree. During my college years, I was actively involved as a member of the Pi Beta Phi sorority and co-founder of Razorback Recovery, a food recovery program.
When I am not in the office, I enjoy going to the farmer's market, cooking at home, spending time with my friends and family, and getting outdoors for some exploration with my dog and adventurous daughter.
Email: tayler@brookwaycounseling.com